We appear to have ignition in Silver. The December Silver contract today thrust above its dominant near-term resistance line at 27.36.  This is the first indication that the larger post-August bullish coil formation may be complete, with Silver possibly beginning a new, powerful advance that points to 31-32 and then to 34-35.
Now we need to see December Silver hold and close above that resistance for some confirmation of the breakout, and to imbue the technical set-up with added confidence.
Similarly, the iShares Silver Trust (NYSE:SLV) needs to climb and to sustain above 25.62 to provide my work with added confidence that the high-level digestion pattern is propelling prices into a new upleg.
Let's be aware that SLV trades during normal and extended hours (roughly 7 AM ET to 8 PM ET) compared to December Silver futures, which trades round the clock from Sunday evening at 6 PM ET to Friday at 4 PM ET). The additional trading hours for December Silver have created a more mature looking pattern that argues forcefully that the August-September coil formation is complete.
Lately, Dec Silver and SLV have mimicked the intraday directional swings of the equity indices. Today so far, Silver has climbed in sympathy with the equity indices, but the question remains as to whether or not Silver will be able to hold its gains independently of the equity markets should the latter roll over later today or Tuesday?
Should the equity indices roll over, relinquishing part of today's gains, let's consider the behavior of Silver a litmus test. If Silver and SLV can hold up despite weakness in the stock averages, then we will have another reason to think "we have ignition" on the upside for a thrust out of the 5-week high-level digestion period.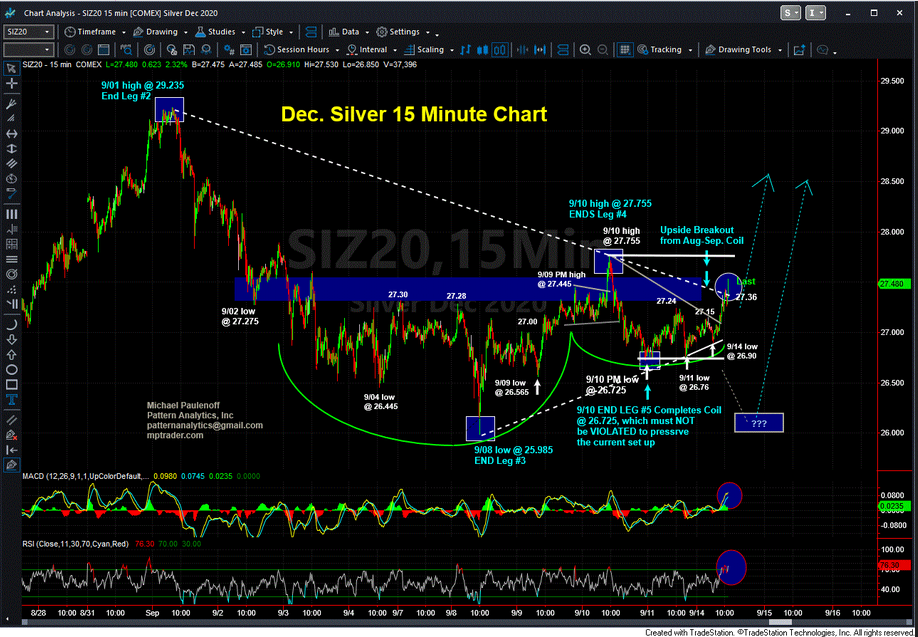 View: Source
View: More news